ENTREPRENEURSHIP ECOSYSTEM STORIES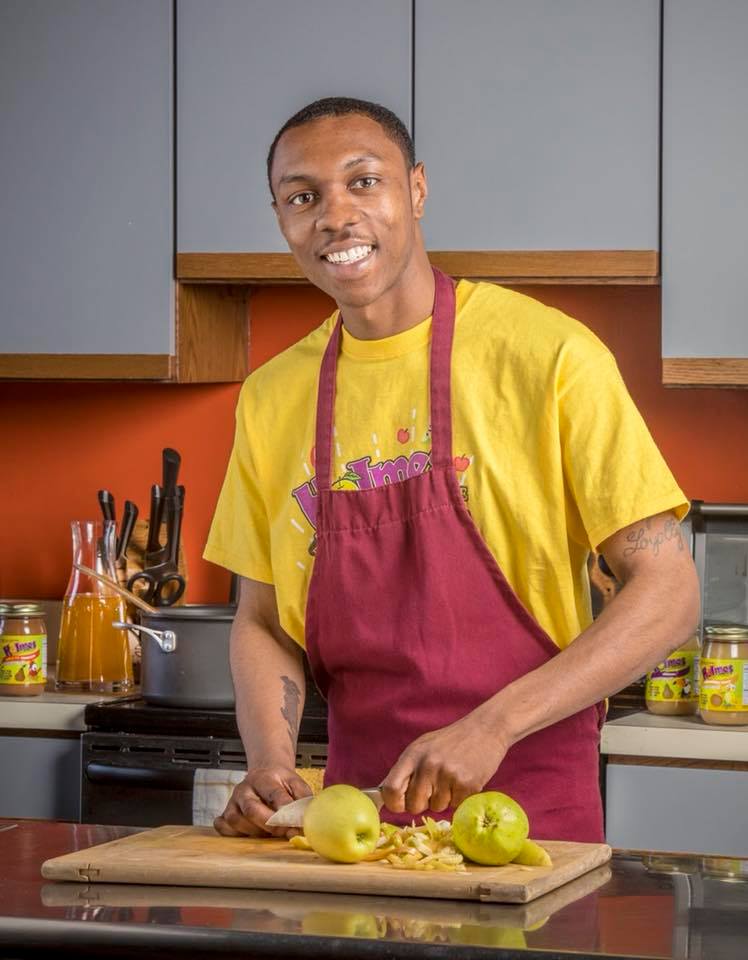 At the age of 15, Shaker Heights native Ethan Holmes launched Holmes Made Foods LLC with his grandfather's applesauce recipe and ambitious dreams of entrepreneurial success. From humble origins in his family's kitchen – acquiring raw materials as Christmas gifts – Holmes built his brand of all-natural applesauce through sweat equity and persistence. Over the past 8+ years, Holmes has diligently grown his operations and distribution by leveraging his personal network, pitching his product at every opportunity, and listening to the advice of business mentors. Along the way, Holmes and his company have won a number of entrepreneur pitch competitions, earning capital infusions to fuel business growth, including an investment from The Cleveland Foundation in 2017.
Today, Holmes Mouthwatering Applesauce is available in hundreds of retail locations throughout the midwest, including Kroger, Heinen's, Whole Foods, Marc's, Giant Eagle Market District and sold online through his website.
We recently caught up with Ethan to check in on his business and to talk about his journey to where he is today.
Ethan, tell us a little about your journey to entrepreneurship?
When I was 15, I was given a book by my godmother entitled Reallionaire that told the story of Farrah Gray, a 14-year-old African American boy who made a million dollars from creating and selling his own product. It inspired me.
I started out as a freshman, creating candy bars and selling them at my high school. I didn't make much money, but I did learn a lesson. Candy is a saturated market.
That led me to a healthier food—applesauce. I started with my Grandfather's recipe and adapted from there. It took me a long time in the kitchen to get it right and as it often goes, one of the best things about our applesauce actually ended up happening by accident.
I was experimenting with "flavored" applesauce, so I added some pears into the mix. It didn't change the flavor like I thought it would, but it gave the applesauce a natural sweetness without adding any processed sugar. This has become one of the things that really sets us apart, combined with our focus on giving back to the youth and teaching entrepreneurship to students.
Who helped you get started as an entrepreneur?
I won some prize money from JumpStart and along with the $500 I won at a Hiram College pitch competition, I was able to get my business insurance and get into a commercial kitchen. I also have to mention LaunchHouse, because they were a real game-changer for me. I was a sophomore in high school when they opened and I used to visit after school just to go there and be around entrepreneurs.
LaunchHouse is also where I met Dan Feldman who was a business advisor and entrepreneur. I had been trying to get my product into Heinen's, and one day they called and wanted 90 cases (1,080 jars) right away. At the time I didn't have the equipment to fulfill an order that big, or the money to get the equipment I needed.
Not only did Dan help me work out deals with my suppliers, He gave me $300 out of his own pocket to pay for transport and incidentals. Sadly, he passed away after a long battle with brain cancer, but in his last days he was still trying to help me out.
Little things like that make you realize how important it is to pay your success forward.
Speaking of paying it forward, we know you love to connect and give back to young entrepreneurs. You were part of the thinkBIG! Summit in 2019 as a panelist. You had a huge crowd of curious students around you asking questions about your business and experiences after the event. How else do you support students, and can you tell us about the Young Entrepreneur Initiative?
In 2015, I created the Holmes Entrepreneur Initiative, giving local students an opportunity to learn about small business operations and earn a wage by working in the production and sale of Holmes Mouthwatering Applesauce. They gain necessary skills to start their own business while earning a stipend with our company.
I visit local elementary schools to teach the kids about "elevator pitches" and let them pitch me their ideas. It's a small thing, but you have to plant the idea in their heads that entrepreneurship is a viable option. I also mentor high school students and serve as a speaker for elementary, middle and high school students through the Young Entrepreneur Institute Speaker Bureau.
I think that's part of what I'm meant to do with my life. Money and success are great but it's ultimately worth nothing if you can't share with others. I really want to encourage more young people to go out and follow their dream.
What are you currently doing and what is the future of the business?
In 2017 I was selected by the Cleveland Foundation to receive investments as part of Cleveland Chain Reaction and was one of the two 2017 [M]SPIRE awards sponsored by MAGNET, the Manufacturing Advocacy and Growth Network. MAGNET is a non-profit organization that has been supporting small to medium-sized manufacturers for over 30 years.
Since then, I have been producing Holmes Mouthwatering Applesauce at a shared 13,000 square foot kitchen and warehouse facility in Bedford, Ohio. I have a staff of 3 production workers that handle all of the prep, cooking, and packaging of our products. We currently produce up to 4,000 units a month, 500 gallons of applesauce.
We have built relationships with local growers and source all of our inventory from Ohio orchards and packaging suppliers.
In March 2020, Holmes Mouthwatering Applesauce was chosen by "Chobani" as one of their 8 incubator companies. Receiving $15,000 in grant funding and 3 months of advising and business field trips in NYC.
The future for Holmes Made Foods, LLC and Holmes Mouthwatering Applesauce is more store locations, regions, and creating healthy and delicious products.
What advice do you have for young entrepreneurs just starting out?
Research what you want to create or do, outline what it will take to start or get to the next level and make it your mission to get through the list. Once you've done that create more lists and repeat. Remaining passionate, persistent, and patient is key.
As an entrepreneur it is an important skill knowing how to deal with people and problem-solving. There are many times you'll have to defuse situations or deal with different personalities. How you react and move forward from those situations defines your outcome.
Lastly, you must publicly tell your story as much as you can and give back to the community in the process. Since the start, I have done over 100 presentations at schools, universities, summer camps and even a military base. Most of the presentations were unpaid. But they have allowed me to create new customers, gain exposure and larger opportunities.
Thanks for taking the time to catch up with us. Where can we go to learn more about Holmes Applesauce?